October 4th marks a special day for vodka enthusiasts across the nation – National Vodka Day! And what better way to celebrate than by toasting to this beloved spirit with Mourne Dew Vodka, a true Irish gem? Join us as we raise our glasses and explore the world of Mourne Dew Vodka, a spirit that's sure to leave you enchanted.
Mourne Dew Vodka is not your ordinary vodka; it's a masterpiece crafted with precision and passion. Made from the finest Irish ingredients and distilled six times, it embodies the essence of purity and smoothness that vodka lovers cherish.
The Perfect Passionfruit Martini: Mourne Dew Vodka Style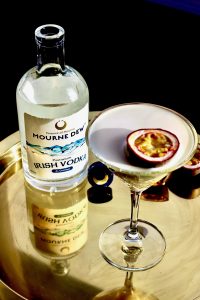 Ingredients:
2 ripe passion fruits (they should have a crinkly appearance), halved
60ml Mourne Dew Vodka
30ml passoa
1 tbsp lime juice
1 tbsp sugar syrup
prosecco, to serve
Instructions:
Scoop the seeds from one of the passion fruits into the glass of a cocktail shaker, add the vodka, passoa, lime juice and sugar syrup. Add a handful of ice and shake well, strain into 2 martini glasses, top up with prosecco, then add half a passion fruit to each. Serve immediately.
Mourne Dew Vodka Sour: A Citrus Delight
Ingredients:
2 oz Mourne Dew Vodka
3/4 oz lemon juice
1/2 oz simple syrup
Lemon slice and cherry for garnish
Instructions:
Fill a shaker with ice.
Add Mourne Dew Vodka, lemon juice, and simple syrup.
Shake vigorously.
Strain into a rocks glass filled with ice.
Garnish with a lemon slice and cherry.
Click here for more vodka cocktail recipes!
Whether you're a fan of the classic martini or craving the citrusy delights of a sour, Mourne Dew Vodka promises an experience that transcends the ordinary. With each sip, you'll embark on a journey through the world of premium vodka, where smoothness meets sophistication.
Join us in this celebratory toast to Mourne Dew Vodka, an embodiment of Irish craftsmanship and excellence. As you savor its exquisite flavors, may your National Vodka Day be filled not only with exceptional spirits but also with the warmth of good company, the joy of great cocktails, and a collection of unforgettable moments that you'll cherish for years to come. So, let the glasses clink and the laughter flow – here's to raising the bar on National Vodka Day. Cheers!